Learn About the Soon-to-Arrive 2017 Honda Civic Si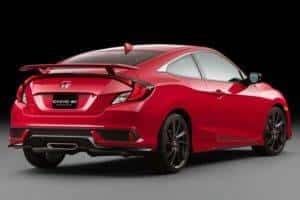 Ever since we first heard about the upcoming release of the 2017 Honda Civic Si, we've been awaiting more news about the vehicle and its potential offerings for drivers. Lucky for us, Honda has finally released just enough information about the new 2017 Honda Civic Si to satisfy us until it turns up at dealerships later this year. Keep reading to get the insider update on the vehicle.
Sports Exterior All the Way
The photos we have of the new 2017 Honda Civic Si are only prototype photos, but these prototypes have given us a satisfying glimpse of the Civic Si. Equipped with a center-outlet sport exhaust system, front splitter, rear wing, and 18-inch machine-finished alloy wheels, the impressive and sporty look of the new exterior truly shines among competitors. We can also see that there will be both two-door and four-door options to choose from, both with a bold and sleek look to them and more customization options for customers.
Aggressive Engine Setup
The 2017 Honda Civic Si is prepared to deliver drivers some intense power and incredible performance. The engine is a 1.5L turbocharged with a wildly unchained ability to deliver 205 hp and 192 lb-ft of torque at the drop of a dime. That kind of power is sure to please even shoppers looking for a vehicle that leans into the sports car segment. Other extras such as a limited slip differential for better control and an adaptive damper system for extra stability show us that the Civic Si is ready for action.
Stay Tuned for More on the 2017 Honda Civic Si
We're hopeful that in the near future we will be able to supply you with more great details about the 2017 Honda Civic Si. While you wait, take a trip down to Mid-Michigan Honda Dealers to learn more about our financing options or current offers and see the currently available members of the Honda Civic lineup in action!