Does the Toyota Camry Hybrid Fuel Economy Stand Up to a Honda?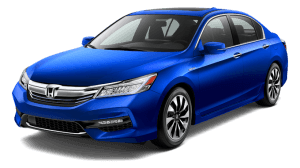 In the world of hybrid vehicles, fuel efficiency is one of the main stars of the show. A desire for better fuel economy is, after all, the reason most consumers look to hybrid vehicles in the first place. In consideration of that, you may be wondering how the Toyota Camry Hybrid fuel economy measures up to its competitors in the area of fuel economy. Specifically, how does the Toyota Camry Hybrid compare to the award-winning Honda Accord Hybrid?
Keep reading as we compare these two hybrid competitors, the 2017 Toyota Camry Hybrid and the 2017 Honda Accord Hybrid, side by side. As you're about to see, the Honda Accord Hybrid is the car to beat among its peers. Then, when you're ready to meet the extraordinary Honda Accord Hybrid in person, simply head over to your nearest Mid-Michigan Honda Dealers location to experience this exquisite car for yourself!
Fuel Economy Face-off
In terms of EPA-estimated fuel efficiency, it should come as little surprise that the 2017 Honda Accord Hybrid is the hands-down winner in comparison with the Toyota Camry Hybrid, delivering outstanding fuel economy numbers that will make any motorist smile.
The Accord Hybrid serves up an incredible EPA-estimated 49 mpg in the city, 47 mpg on the highway, and 48 combined mpg.*
In contrast, fuel economy achieved onboard the three 2017 Toyota Camry Hybrid trims ranges from just 40 mpg in the city and 37 mpg on the highway to a maximum delivery of only 42 city mpg and 38 highway mpg. This is clearly a significant difference—and one that drivers will be feeling at the pump as well as in their pocketbooks!
Reap the Rewards!
Enjoy the incredible fuel and money savings that come with owning the exceptional 2017 Honda Accord Hybrid. Head into your nearest Mid-Michigan Honda Dealers location or contact us today to learn more about the impressive Accord Hybrid and to take this efficient, elegant car out for a test drive. A friendly, knowledgeable member of our crew stands by to assist you and will be glad to answer all of your questions and even help you obtain financing. Come in for a fantastic deal on this award-winning, eco-friendly car. The environment will thank you—and so will your bank account!