Maximize Your Interior Space: 2017 Honda CR-V vs. 2017 Toyota RAV4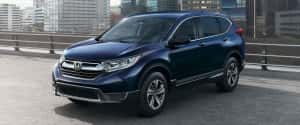 The compact SUV segment grows more impressive every year, and although almost all of the large manufacturers are improving their offerings at a rapid pace, there's still a big difference between the most desirable crossovers and those that are lagging behind. Drivers in Michigan have no doubt heard good things about both the 2017 Toyota RAV4 and the 2017 Honda CR-V, but as this full comparison shows, the CR-V is far and away the better option. The latter offers more interior space, a wider selection of standard features, superior safety ratings, and on top of all this, a more powerful, more efficient drivetrain. Get a better sense of what sets the CR-V apart from the RAV4 by reading on below!
The CR-V Interior: Bigger, Bolder, and Better Equipped
There's no denying that, by the numbers, the 2017 Honda CR-V enjoys a clear advantage over the 2017 Toyota RAV4. The CR-V may possess a lower price than its competitor, but it still manages to come out ahead with more seating space and more cargo volume! The RAV4 offers 101.9 cubic feet of passenger volume and up to 73.4 cubic feet of cargo volume, while the CR-V provides 105.9 cubic feet and 75.8 cubic feet in each category, respectively. The CR-V secures this edge against the RAV4 by giving drivers and passengers more shoulder room, more hip room, more headroom, and more second-row legroom—so you'll have the space to spread out no matter where you're seated. In this competition, only the CR-V comes standard with automatic climate control and floor mats, two features that are sure to make your life on the go just a little bit more enjoyable.
As we alluded to above, the CR-V's interior isn't its only strong point! Drivers who choose this Honda over its Toyota competitor will enjoy stronger protection from front driver and front passenger collisions, according to the NHTSA. Moreover, the CR-V enjoys advantages in horsepower, torque, and fuel economy relative to the RAV4. Drivers who want to learn more about the CR-V's potential can check out this review from Edmunds.com or explore our own list of CR-V tips and tricks.
Test Drive the Honda CR-V
Thanks to our current offers and financing options, there's never been a better time to check out the interior of the 2017 Honda CR-V. Honda's celebrated compact SUV possesses numerous advantages over the 2017 Toyota RAV4, and once you've taken the former for a test drive at your local Mid-Michigan Honda Dealer, you won't be able to settle for second best.