2020 Honda CR-V Hybrid
Honda hybrid vehicles have a reputation for delivering an unrivaled blend of power and efficiency, and the current Honda CR-V is one the world's bestselling crossover SUVs. Take those facts together and you'll quickly start to understand why the upcoming 2020 Honda CR-V Hybrid is attracting so much attention.
Showcasing proven hybrid engineering alongside eye-catching exterior styling, this groundbreaking vehicle is highly anticipated. If you're eager to find out more, simply read on to explore:
Honda CR-V Hybrid Powertrain
Honda CR-V Hybrid Design
Honda CR-V Hybrid Powertrain
The non-hybrid 2020 Honda CR-V gets a 1.5L VTEC™ Turbo engine across all trims, while the 2020 Honda CR-V Hybrid will use the same hybrid powertrain currently used so successfully in the Honda Accord Hybrid.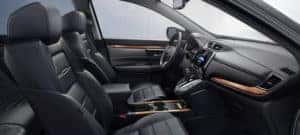 That will make this the first electrified SUV from the Honda brand in America. It'll join the Accord Hybrid and Insight to make the third electrified Honda manufactured in the U.S. Honda will start applying that advanced two-motor hybrid-electric system across its core U.S. models in the years ahead. As summed up by Henio Arcangeli, Jr., senior vice president of Automobile Sales at American Honda Motor Co., Inc. "The CR-V Hybrid also signifies our direction … to invest in the production of electrified vehicles in America."
Official MPG ratings have not yet been released, but as noted by the team over at Car and Driver, "if it can get close to the Accord hybrid's 48-mpg combined rating, it will have a leg up on its most natural rival, the Toyota RAV4 hybrid."
Honda CR-V Hybrid Design
The Honda CR-V will receive a few styling updates for 2020, and the Honda CR-V Hybrid will enjoy a few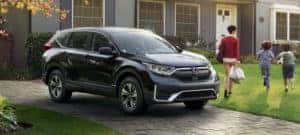 design features to make it unique, including:
Hybrid Badging
Blue Honda Logo on the Grill
Hidden Tailpipe
Unique Rear Bumper (Touring Trims)
It's also going to be available with two of the 2020 Honda CR-V's new exterior colors, Sonic Gray Pearl and Radiant Red Metallic.
Learn More About 2020 Honda CR-V Changes from Your Local Honda Team
You can check out the latest Honda hybrid lineup and find out more about the upcoming CR-V by visiting your nearest Mid-Michigan Honda dealer. For any further assistance or to hear about current specials, feel free to contact us today.