2019 Honda Insight Performance Specs
Honda Insight Fuel Economy
The best things in life are free—or close to it. If you choose the Insight you'll save money on fuel no matter where life takes you, and with superior mileage across all settings you'll be ready for your adventures. Honda's dependable two-motor hybrid system is the foundation of this sedan's capabilities, but it's hardly the only feature that makes the Insight stand out. We've highlighted a few of the most exciting components below.
| | City | Highway | Combined |
| --- | --- | --- | --- |
| Honda Insight LX, EX | 55 mpg | 49 mpg | 52 mpg* |
| Honda Insight Touring | 51 mpg | 45 mpg | 48 mpg* |
1.5-Liter 4-Cylinder Atkinson Cycle Engine: As one half of the Insight's two-motor hybrid system, this 1.5-Liter In-Line 4-Cylinder engine is responsible for recharging your Lithium-Ion Battery when you're on the move. Atkinson Cycle design allows this component to consume a smaller amount of fuel than conventional engines.
AC Synchronous Permanent Magnet Electric Motor: In all but the most extreme circumstances, most of the power and energy you'll feel at the wheel will come from your AC Synchronous Permanent Magnet Electric Motor. As the table above shows, this impressive technology is nearly as efficient on the highway as it is on city streets.
3-Mode Drive System: Every Insight has been designed with a 3-Mode Drive System that lets you switch between ECON, EV, and Sport settings. Each mode interfaces with your shift-by-wire technology to provide a unique touring experience. Sport Mode directs more of your engine power to your front wheels, while ECON mode limits and EV mode eliminates your engine's contribution.
Eco Assist Technology: Eco Assist technology was designed on the assumption that anyone can learn to drive more efficiently. With this feature, you'll have color-coded indicators that let you know when you're driving the Insight in an optimal way.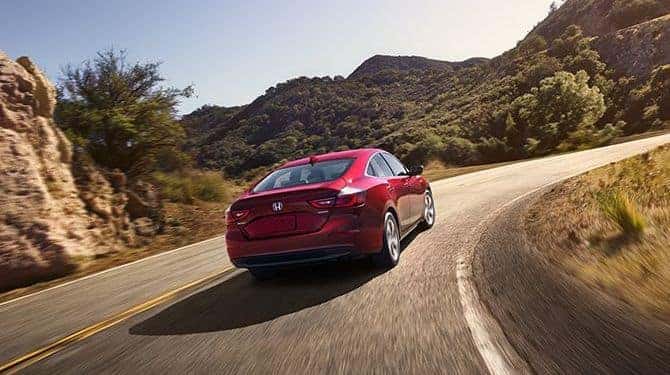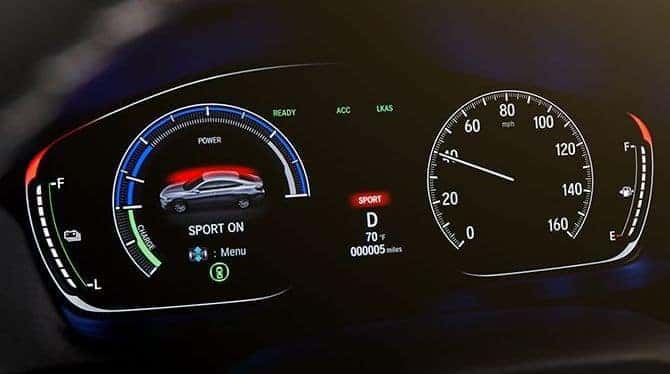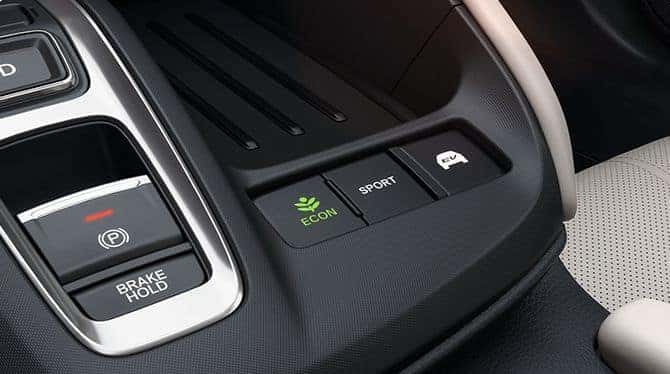 A Hybrid Drive You'll Love
The engineers at Honda know that the best hybrid cars offer more than fuel economy, and decades of experience in driver-centric design have helped them produce dependable vehicles that are fun to drive. Standard stability-enhancing features provide a satisfying ride, and when you pull out all the stops, you'll find that the Insight's powertrain packs quite a punch.
| | Horsepower | Torque |
| --- | --- | --- |
| AC Synchronous Permanent Magnet Electric Motor | 129 @ 4000-8000 RPM | 197 lb.-ft. @ 0-3000 RPM |
| In-Line 4-Cylinder Atkinson Cycle Engine | 107 @ 6000 RPM | 99 lb.-ft. @ 5000 RPM |
| Total System Measurements | 151 | N/A |
Honda Insight Horsepower: With two motors, the Honda Insight is well equipped to offer power when you need it. In most cases, you'll be driven by your electric motor's 129 hp. When you're taking off or picking up speed, you'll also receive a boost from your 107 hp engine. Total System Measurements for the Insight come to 151 hp.
Wheels, Brakes, and Suspension: The Insight's LX and EX trim levels come equipped with 16-inch alloy wheels, while Touring models have 17-Inch alloy wheels. MacPherson Strut Front Suspension, Multi-Link Rear Suspension, Power-Assisted Ventilated Front Disc Brakes, Solid Rear Disc Brakes, and All-Season tires come standard across all trims.
Ride Quality and Control: The Insight's AC Permanent Magnet Electric Motor can generate up to 197 lbs.-ft. of torque between zero and 3000 RPMs, and at 5000 RPM, your engine kicks in with 99 lbs.-ft. of its own. Standard features such as Vehicle Stability Assistance and Traction Control help to keep you safe and secure.